The much-anticipated TopHap Full Property Report is a self-service feature that allows you to download detailed PDF reports with the click of a button. You can export reports at any time of day (or night) since they are generated on the fly using the most recently available data.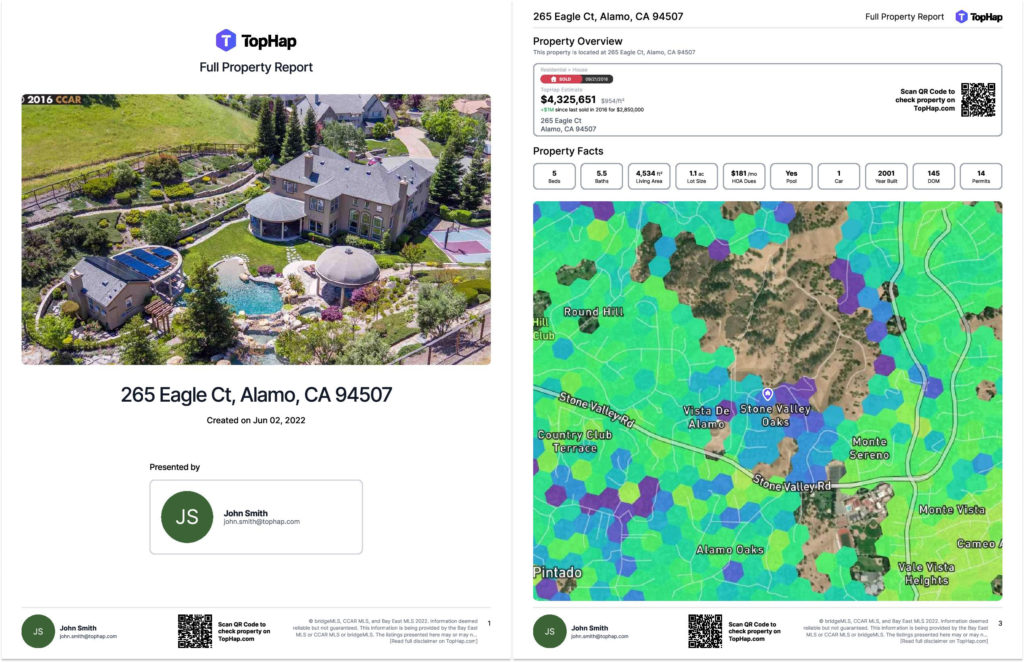 Use Case:
As a buyer's agent you could generate and share a full property report for each of the homes you are presenting to your client.
What is inside the Full Property Report?
The full property report will become even more extensive as we add more sections to the property detail page. At the time of this post, the following sections are included in the full property report:
Cover Page
Table of Contents
Property Overview
Property Images
Street View
TopHap Estimate and Rental Estimate
Lot Details (Lot Size, Lot Elevation, Lot Slope)
Property Details (Interior, Property & Lot, Exterior, Location, Other)
Public Records
Owner Information, Transactions, Property, Tax, Parcel
Permit History
Tax Information (Taxes Billed, Tax History)
Owner Information (Taxes Billed, Owner Details)
Listing History
Deed History
Loan History
Environmental Characteristics
School Information (Public Schools, Private Schools)
Nearby Statistics
Neighborhood (Property Types, Crime Index, Turnover Rate, Population)
Market Changes (Days on Market, Sold Price, List Price, Median Sold Price, Median Sold/ft², Ownership Time)
How to make your first Full Property Report
You can generate a report from inside any property detail page by clicking Reports > Full Property Report.
After selecting Full Property Report, a notification will pop up confirming that the report is being generated. The report may take a few minutes since it includes a lot of data from many different places and needs to calculate several values in real-time.
There's no need to wait around for the report to generate, you can continue using the site as usual. If you're still on the map page when the report is ready, you'll see another notification indicating that the report is done and will download to your computer.
You will also receive an email with a link to download your report. This makes it easy for you to find and access previously generated reports or forward reports to clients and team mates.
Thanks for reading! Try downloading your first full property report for yourself on www.TopHap.com or check out the sample PDF below: